Sneak Previews
Shifting Focus:
Digital Possibilities for Indigenous Arts
A panel of international theatre makers, photographers and digital designers introduces new ways of 'seeing' indigenous arts.

Monday 21 October 2013, 7.00–8.30pm, October Gallery, WC1N 3AL. Organised in association with the Inside Out Festival.


Psychedelic Cumbia:
From the Amazon to the World
Maya scholar Genner Llanes-Ortiz leads a discussion of Amazonian and other types of cumbia followed by a live performance by Juan Carlos Arenas' band, Los Musicos.

Tuesday 22 October 2013, 5-6pm, Senate House, University of London WC1E 7HU. Organised in association with the Inside Out Festival.
'Til the Black Lady Sings:
Indigenous Voices for Twenty-First Century Opera
In words and song, Yorta Yorta soprano and composer Deborah Cheetham tells the story of Australia's first Indigenous opera

Friday 25 October 2013, 7.30–8.30pm, Great Hall, Kings College, WC2R 2LS. Organised in association with the Inside Out Festival.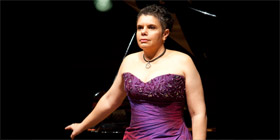 International Conference
In the Balance: Indigeneity, Performance, Globalization
24–27 October 2013, Trafalgar Square, London Interdisciplinary dialogues on the power and precariousness of indigenous performance in our times.
Convenor: Helen Gilbert.
Inquiries: Sally O'Gorman.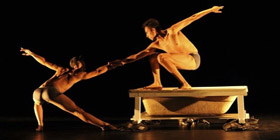 Registered delegates only.
Festival
Origins: Festival of First Nations
23 October – 3 November at London venues including Rich Mix, ICA, Bargehouse and The Place.
This twelve-day festival, co-produced by London Intercultural company Border Crossings and the Indigeneity in the Contemporary World Project, runs alongside our exhibition and shares some of its artists and events. Origins celebrates the work of indigenous musicians, dancers, choreographers, theatre-makers, visual artists, filmmakers and cooks.
Highlights include stunning dance solos by Dalisa Pigram (Marrugeku) and Victoria Hunt, music by Indigie-Femme, plays about the politics of culture in Alaska and Central Australia, a rich programme of indigenous feature films and documentaries, and a Day of the Dead community celebration.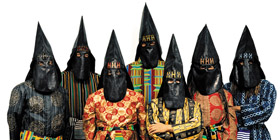 The Origins Lecture by renowned Aboriginal artist Fiona Foley focuses on her new video work, Vexed, featured in our exhibition. Foley's earlier work is currently showing at the Australia exhibition at the Royal Academy of Art.