Live Performances
As the magic of the performative moment is intrinsic to this exhibition, we are thrilled to present indigenous work in live performances, concerts and public interventions.
Composer and musician Horomona Horo plays taonga puoro, Māori 'singing treasures', Tuesday 29 October 5.30–6.30pm, Bargehouse Level 3.
Peter Morin, performs his Cultural Graffiti in London, Thursday 31 October at Saint Olaf church courtyard, gravesite of an Inuit child buried in 1577.
Victoria Hunt presents her haunting live art installation, Day of Invigilation, Friday 1 November, 5.30–6.30pm, Bargehouse, Level 4.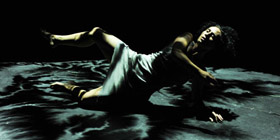 Costume and spoken word art by Pasifikan performance artist, Rosanna Raymond, Friday 8 November, 5.30–6.30pm, Bargehouse Level 3.
We are also presenting indigenous work at the Inside Out Festival, 21–26 October, and co-producing a great line-up of performance and film events at Origins, 23 October – 3 November.
Film Programme
See funny, provocative and poetic films during your visit to EcoCentrix. We are running continuous screenings of shorts from Aotearoa/New Zealand, Australia, Bolivia, Brazil, Canada, Chile, Colombia, Ecuador, Mexico, Peru, USA and Venezuela. There are also curated sessions led by film experts on 'Indigenous Humour', 'Water and Sustainability', and 'Shorts and Animations for Kids'. Don't miss 'Spirit Tracks', a special programme of indigenous works for Halloween, on 31 October, 7pm, at Shortwave Cinema, Bermondsey.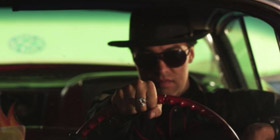 Interactivity
Like all performances, this exhibition really comes alive with an active audience. Download our free mobile app to interact with exhibits, put your own touch on an art work or help build a word cloud that grows and changes while you visit. You can even start a protest by simply walking into a room. Our interactive platforms are fun, accessible to all ages and designed to build bridges between cultures and art forms.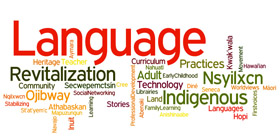 Workshops and Talks
Meet some of the people who've made this exhibition possible and learn about the ideas and issues that inspire their interdisciplinary artworks.
Highlights include workshops by Jake Nash on Aboriginal design principles for Australian performing arts, by Irma Poma Canchumani on filmmaking and traditional knowledges in the Peruvian Andes, and by Victorino Tejaxún on Guatemala's giant barriletes (kites), an art form that celebrates the political and ethnic survival of the Maya.
Join in a panel discussion on 'Sustainable Futures' with Wayuu filmmaker David Hernández Palmar (Venezuela) in dialogue with Christian Poirier from Amazon Watch. 28 October 5.30pm, Bargehouse Level 3.
Walk with Cree/Métis singer and performance artist Cheryl L'Hirondelle (Canada) through the streets and parks of London recording its urban tones, or discuss the role of public art with Edgar Heap of Birds, who recently featured in the National Portrait Gallery's Late Shift Extra programme.